The above places will be visited during this 22 day tour. Are there any destinations that you would rather not visit or are you missing some destinations? That is no problem at all with Witropa Travel. We can customize it easily. We are also happy to arrange your stay in Costa Rica a few days longer or shorter. Click on the quote button and inquire for a customized vacation.
---
Below you can see where the places in Costa Rica are, that you will visit during this 22 day tour.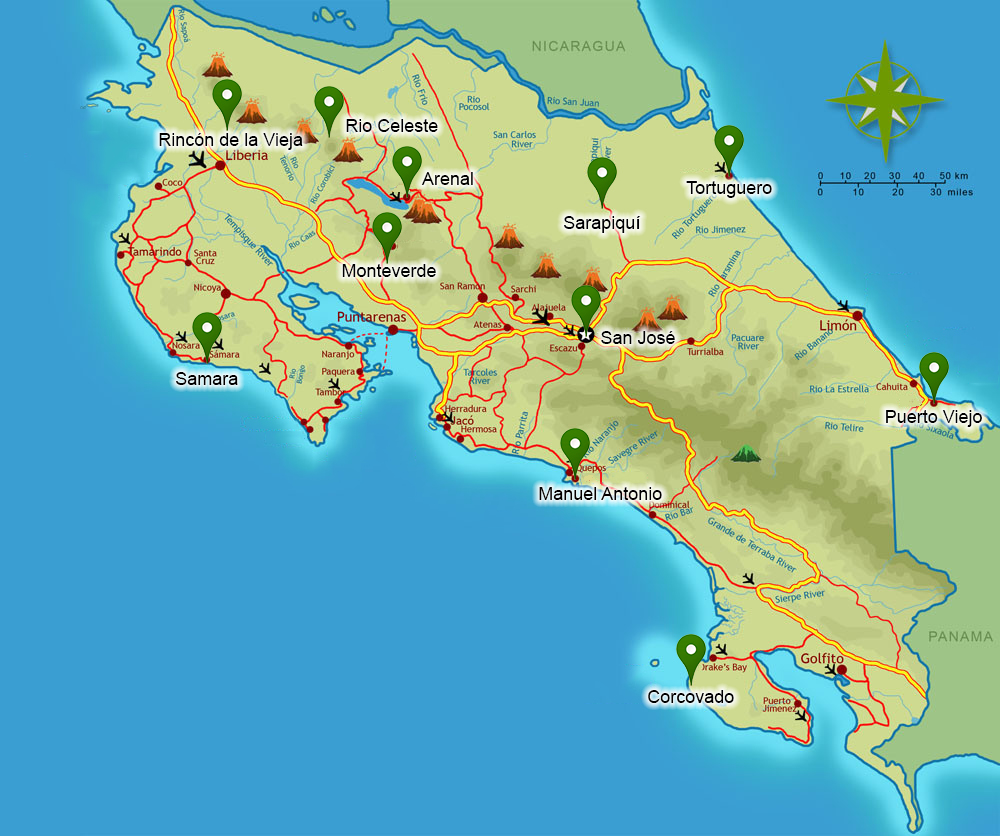 You can read the itinerary of this trip in the "from day to day" tab.
The other two tabs give a wonderful impression of our "accommodations" and "activities." Is information still missing? Please contact us so we can arrange your Costa Rica dream trip that you have in mind. The tour price of 1795 euros can be subject to surcharges in the local high season, which runs from mid-December to mid-April.
Included in this trip:
Accommodation in attractive, small-scale lodges with breakfast
Outstanding service; before and during the trip (direct contact via whatsapp)
Transfers airport-hotel and visa versa
24-hour English spoken support
Guide, boat & bus transport in Tortuguero
Extensive Travel Description with nice local tips while traveling on the road and on destination, such as photogenic spots, good restaurants, wildlife spots, cozy bars, amazing viewpoints and various activities
Spacious 4×4 rental car with basic insurance, free 2nd driver, unlimited mileage and drop-offs at the hotel or airport
Local taxes, reservation- and booking costs
NEW! If you choose a Full Coverage car insurance policy you will get a GPS or WIFI in the car for FREE!
Exclusive in this trip:
Flight tickets
Travel- & cancellation insurance
Other excursions, meals, entrance fees & tips
High season Surcharge (between December and April)
Interested in this tour
San José
Day 1
Welcome to Costa Rica! Upon arrival at the airport you will be warmly welcomed by our driver and brought to your hotel. Recover from your flight with a tasty welcome cocktail in the hotel bar.
Tortuguero
Day 2
Today you will be picked up early in the morning but you will soon be surprised by the breathtaking view of the green mountains. You´ll swing through the mountain range that brings you to the Atlantic side of the country. Once downstairs you will be introduced to your first local breakfast with the typical "gallo pinto", salsa lizano, fresh fruit, egg, sandwiches and of course Costa Rican coffee! These days in Tortuguero are programmed in a package where transportation, a hike and a visit to the village are already arranged. You even get a local guide so you can sit back, and fully enjoy the beautiful nature that passes by everywhere, you will be amazed … After a short visit to the simple Caribbean village of Tortuguero, you will arrive to the lodge that is beautifully situated in the jungle. Between July and October the giant green turtle crawls onto the beach to lay her eggs, which is an unforgettable experience to see.
Day 3
During your stay in Tortuguero you will travel by boat through the beautiful national park of Tortuguero and see many wildlife such as howler monkeys, parrots, tiger herons, caimans, even sea cows and jaguars have been spotted … There are no cars or roads in the "Amazon of Costa Rica". The guide will introduce you to the program, and you can certainly take a boat trip to spot animals and take photos. The guide will also tell you a lot about the various flora and fauna in the wetland. There are so many stories to tell about this country with the most biodiversity per square meter in the world. Don't forget to photograph the green frog with the red eyes that lives here. Without flash, because that is harmful for the 8 centimeters long animal. You will also see the "Blue Jeans" variant and brightly colored lizards suddenly jumping over your path.
Puerto Viejo
Day 4
After a last boat trip through the beautiful green water jungle of Tortuguero you will return to civilization at a town called Guapiles. This is also the place where you will receive your rental car. Say goodbye to the guide and continue your vacation independently. We have arranged a spacious 4 wheel drive car for you, so you can travel comfortably and safely even on bumpy roads and in the mountains. Thanks to our sublime route description you can easily find your way and we will provide you with various special places to stop and "things to do" between destinations. Once at the hotel, you have had tropical adventures and countless photos on your memory card!
Day 5 and 6
Your Costa Rica adventure has just begun. In this relaxed area of Puerto Viejo you can experience the different Caribbean vibes. Do you prefer something active? Visit the numerous beaches and hidden bays, using Witropa's route description,and go snorkelling, hiking in the Cahuita National Park or visit a waterfall in the mountains of Talamanca. Do you prefer to blend in with the local culture? You will have to choose between the 'laid back' atmosphere of locals with Jamaican roots, the Br Bri Indians with their 1000s and years of history and infinite knowledge of nature or the modern tourist bars and restaurants in the village where it is always nice … The South Caribbean has it all. Relax in a hammock on your private terrace or relax on the beautiful beach with a view on the blue Caribbean Sea. Don't forget to taste the local cuisine: the typical "rice and beans" dishes with coconut milk and Caribbean sauces are delicious!
Sarapiquí
Day 7
Today you will leave east coast and travel through the caribbean farmland. As on any travel day, you can make various fun stops, thanks to Witropa's travel directions. For example you can visit a banana packing hall, a local bakery or some small fruit shops by the side of the road. At the pineapple plantations you can even go to the factory to see how the processing is going. The final destination is Sarapiqui, known for the river of the same name. White water rafting and kayaking is very popular here.
Day 8
The tropical rainforest is all around you,so you will see it just outside of your comfortable hotel room. Search for brightly colored frogs and don´t be surprised, if a green hummingbird, a bright red Tangara or a blue-colored bird comes to have breakfast with you… Private nature parks are also nearby, where you can enter the forest with a guide who will tell you more about the 'walking' tree ', or you can book a chocolate tour where you discover why the Indians used cocoa as a method of payment. And of course there you can taste plenty of chocolate aswell! End your day with a cool drink on your balcony, while hearing the sounds of the forest.
Arenal
Day 9
Today you continue to the Arenal volcano region. It's only one and a half hour drive today, so you can spend the morning in Sarapiqui or already visit one of the highlights at the Arenal volcano.On your way you will pass a bridge filled with green iguanas. Before your arrive at the hotel you can look around in the town of La Fortuna, do some shopping at souvenir shops or drink a tasty specialty coffee in one of the restaurants. In the afternoon you can bathe in the famous thermal water which has naturally been heated by the Arenal volcano. The view on the volcano is breathtaking!
Day 10
Today there are plenty of options to do: you can take a dip at the waterfall of Fortuna, go bird watching at the Caño Negro reserve, fish on Lake Arenal or do one of the adrenaline tours such as canyoning, repelling, or hike through dense jungle to visit a volcano crater. The Witropa customers usually come back very enthusiastic from their hike with guide Antonio. He will take you to the flanks of the Arenal volcano, partly over old lava and through a green jungle, where wild animals such as monkeys, chachalacas, parasol ants and the Oropendola bird with its famous golden-yellow tail often are spotted. The guide not only knows much about the local flora and fauna, but he also knows everything about the imposing Arenal volcano.
Rio Celeste
Day 11
Today the distance to your next destination is short, but again with a lot of fun things on route. Our description shows you the way, so make sure your camera is charged! In addition to the above activities at Arenal, you can also visit some nature parks and take a (guided) hike. You can also take a look at the Indian reserve of the Maleku Indians in Guatuso. Along the way, the fertile landscape is full of fields with products such as papayas, bananas, pineapples and yuca plantations. You will arrive in Rio Celeste area, where you can see its light blue waterfall, streams and lagoons,in the National Park…. a wonderful beauty.
Day 12
The lodge is located near the National Park, so there is a chance of spotting beautiful tropical birds, white-headed monkeys or a Jesus Christ lizard. Thanks to special hind legs and long nails, this lizard can run across the water … "Rio Celeste" means light blue river. That special color of the water in the middle of the green rainforest gives you a breathtaking tropical view. You can take a hike along the waterfall and lagoons here and you will undoubtedly encounter some animals. In the town of Bijagua you can still find authentic "sodas". The meals in these local restaurants are tastefull, nutritious and low priced, and the people are very friendly and modest. Say "pura vida" and you will get at least a smile back!
Samara
Day 13
Vamos a la Playa! You will make a beautiful trip today, through the province of Guanacaste, named after the national tree of Costa Rica. You will see them a lot along the way, because the cows are using them to find some shade. The mountain pass to the west is a true metamorphosis, the nature suddenly looks completely different. The green jungle changes into a rocky savanna landscape with meadows and large livestock farms. After the flat asphalt roads you will get a piece of rugged dry tropical jungle. After this adventure you will arrive at Playa Samara, a wonderful small seaside town at the Pacific coast. It has elongated white beaches, with surfers in the waves and snorkelers at the reef. After all the beautiful nature hikes and activities in the mountains and volcanoes, it is time to relax by the tropical ocean …
Day 14
Within walking distance of the hotel, you will find some cozy restaurants, shops, nice hangouts and colorful bars. Enjoy the view of the azure ocean under a palm tree, drink from a coconut, watch the pelicans catch fish or take a dip in the hotel pool. For those who want to do something more active, you can take a boat to spot dolphins and turtles, and sometimes there are even whales. You can snorkel and enjoy the colored fish and coral underwater. There is also a mangrove area that you can visit by boat, kayak or stand up paddle. Horse riding along the beach is also possible. And of course Witropa Travel has a few tips not to be missed in the travel description!
Monteverde
Day 15
You will return to the green mountains today. Monteverde says it all, because it means "green mountain". Along the way we have a unique stop for you where protected birds fly around, you will drive past a gold mining town and you will have to make stops to capture the breathtaking views. In clear skies you can see the ocean again, but now with beautiful natural landscapes in the foreground. The rainbows here are world famous and sometimes seem to hit the ground right next to you. The last part of the way, you will drive on gravel roads through small farming hamlets. Feel free to wave to the residents, they are the most friendly. In Monteverde you can take a walk into the forest, who knows: you might have an encounter with an agouti, hummingbird or motmot bird. And don't forget our dining tips, such as the Treehouse, which is very attractively built around a large tree.
Day 16
Monteverde is known for its beautiful cloudforest: this is a mountain forest that has an extremely high diversity of plants that only occurs between 1500 and 1800 meters above sea level. Up to 70 different plant species can grow on just one tree! Ferns, mosses, palm species, climbing plants, and so on, complete office gardens bloom before your eyes. You can experience this in several ways: hiking, over suspension bridges or swinging on a cable car, called the canopy tour. This exciting excursion once started with biologists doing research into the roof (canopy) of the jungle. Nowadays you can feel like Tarzan and Jane zipping through the beautiful forest. But there is much more to do in Monteverde: there are evening hikes in the dark, horse riding excursions, or a butterfly or insect garden.
Corcovado
Day 17
This is a full travel day. First you'll drive down the mountains while enjoying some spectacular views. Then there is time for a fresh mango juice, or maybe try local fruits like "cas" or "guanabana". Along the way we will guide you to a place where you can drink it. Then continue south along the Pacific coast. Don't forget to stop at the crocodile river, some huge crocodiles are lying there on the riverbank! Afterward, pass Marino Ballena, a park named after the whale-tailed coastline. This is the area where you can encounter big humpbacks whales,when you are lucky, perhaps already on the boat to Corcovado! The last part goes by boat over river and sea to a unique place in the jungle, far from civilization …
Day 18 and 19
The highlights here are both in the tropical rainforest and at sea asweell. Dolphins, whales, and countless fish species can be seen, if you go snorkeling or diving at Caño Island. Tapirs, piggies, macaws, 4 monkey species and no less than 500 tree species can be found in the National Park Corcovado. And also on the beach, which -of course- is at your feet. This adventurous destination is the highlight of the tour for many Witropa customers, not just because it was once dubbed "the most intense biological place on Earth" by National Geograpic. Here you will experience by yourself how intense nature is.
Manuel Antonio
Day 20
Again we will give you a list of 'highlights along the way': hidden bounty beaches, viewpoints over the ocean and a restaurant with double sea view … At Quepos, named after an Indian chief, you turn off and drive another 6 kilometers through the hills for your last destination. Once the blue ocean and swaying palms are in sight, you have arrived. And we offer you the best possible location: within walking distance to the beach and almost next to the National Park, with its wildlife, hiking trails through tropical rainforest and white sanded bounty beaches.
Corcovado information »
Day 21
Of course your last complete day in Costa Rica must be spent in a fantastic way. Visit the National Park in the morning and enjoy the ease with which you can see animals here, such as raccoons, skulls and sloths. The different bays in the National Park are are of true paradise beauty. Outside the park you can relax on the beach, have a Pura Vida cocktail in one of the cozy restaurants by the sea or take a dip in the hotel swimming pool. In the afternoon you can think of all the wonderful experiences you had during your Witropa tour and end it with a delicious meal while enjoying some live music. We recommend a restaurant where you can also photograph unforgettable sunsets.
Departure
Day 22
Today you will be driving back to the Central Valley and returning your car at the car rental near the airport. We hope you have fully enjoyed your vacation in Costa Rica. Pura Vida!
Whether you like adventure, spotting animals or relaxing on a beach, there is something for everyone in between! Below you will find the best activities at a glance..
What do they cost and how long do the activities last?
Because you can do some activities at multiple destinations, and we already give other activities away for free in our Travel Description, there are no prizes mentioned here. Weather conditions and seasons can also influence where and when you can best do a certain activity. Take into account you will spend around 30 to 45 Euro per person for guided hiking, boat and culture excursions. They last about 2 to 3 hours. Adrenaline activities such as Canopy, Rafting, Horse Riding and Tubing are more or less around 50 Euro and will take a little longer. There are also tours that take an extra long time and go up to 70 Euro such as whale watching or the even more expensive excursions in Corcovado. We will always propose an optional package to our client in advance, based on the indicated requirements. Examples of the free tours en route are: animal hotspots, nature parks, viewpoints, nice restaurants and swimming at a waterfall. Would you like to know more about the activities that are on your route or do you have another burning question? Contact us immediately and we will be happy to help you further.
Latest News: from 2020 a kind of VAT tax (called IVA) of 13% will be raised in Costa Rica. Please note that our prices for the (optional) excursion package include these taxes! You will never pay more for those activities in advance, than if you would pay on site.
Reliable contacts
Witropa Travel not only knows the nicest places in Costa Rica, but also has reliable contacts everywhere. Because we ourselves are located in Costa Rica, we can switch quickly, and arrange the right activities and locations with professional reliable Tour operators with fun and capable guides.